What is the Future of Online Gambling?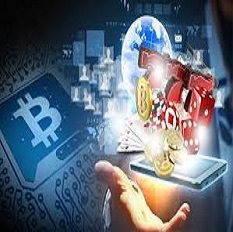 Online gambling is among the fastest moving sectors - it's highly reactive to new technologies as well as innovations. Bearing in mind that both gambling operators and players perhaps have similar prospects of making money from this undertaking, it is only set to grow bigger.
Casino operators are aware that being a step ahead in this particular field provides a key point of difference from the stiff competition and offering you, as a player great gaming experience. This is evident, right from the start tracing back to the 1990s, when the industry first ventured online. The drive to forge ahead and embrace innovations keeps the industry fresh throughout.
With the constant software and hardware innovations, seemingly by the month, only begs the question; what's the future of online gambling?
Augmented Reality Casinos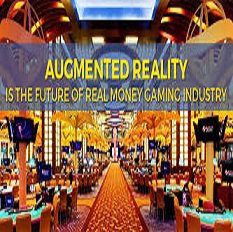 Augmented reality, also referred to as AR technology combines your current reality with overlaid computer-generated images (CGIs) that give you a more open view of the world. Basically, developers make use of virtual overlays to build realities that would otherwise have been impossible to represent in the real world.
This particular technology could be of great help in introducing a wide variety of features, which could go a long way towards enhancing your gaming experience - all made possible by linking the best software and hardware innovations.
For example, rather than playing live games as you know it, an AR virtual casino is created as well as live dealers in a 360-degree virtual simulated environment. The 360-degree surround could reveal tables, casino staff and even various elements of a game to make your experience even more thrilling.
The Challenges Facing Augmented Reality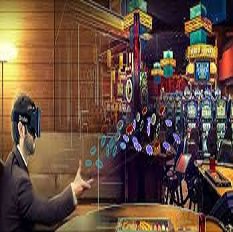 While augmented reality is a significant component of this industry's online scene's future, it still has a long way from meaningful implementation. Players will have to invest in hardware, some of which may be quite expensive. You'll need specially-made headsets and glasses, which are still in their development stages. There are some models already in existence, but not yet in the mainstream.
The software also comes with its fair share of challenges. Game developers need to build platforms with certain capabilities to effectively bring out the AR environment.
Online Gambling Virtual Reality
Virtual Reality is yet another invention that contributes to the future of this industry. This technology takes you to a virtual world that's totally immersive. The technology was first embraced in 2015 and since then, it is rapidly growing. The introduction of VR technology in online gambling not only improves your gameplay but also makes the gaming boundless.
Blockchain Technology
The blockchain industry has also brought various benefits to online gambling. Some top gambling establishments have already embraced cryptocurrency payment methods such as Bitcoin and Ethereum.
One major reason blockchain is going to be part of the bright future of online betting is that no third parties are involved and all transactions are safe, transparent and anonymous.
By definition, cryptocurrency is a digital currency that's neither issued nor regulated by the government. Since its emergence, there are a plethora of cryptocurrency providers that have been established and are slowly taking over different industries.
As such, it's safe to state that the future is imminent and bringing along cutting-edge improvements in online gambling technology.